Panel research is one of the most popular ways companies capture customer insights today. When done right (and with the right technology), it can provide marketing, product, CX, and executive teams ongoing access to customer-validated feedback.
What is panel research?
Panel research, also called community research, is the method of collecting ongoing data and feedback from a pre-recruited group of people.
These market research panels are used for both quantitative and qualitative research activities including surveys, in-depth interviews (IDIs), mobile ethnographies, missions, and video diaries. Pre-recruited groups can be made up of anyone you want ongoing insights from—including your customers, fans, viewers, or a certain demographic, like seniors or car fanatics, that you'd like to learn more about.
Examples of panel research
Paramount

uses panel research to track trends that matter to influential Gen Zs and young millennials through their Culture Keepers insight community
Diageo uses a proprietary panel to engage legal drinking-age consumers
The

Vancouver Canucks

has an insight community to capture real-time fan feedback to improve the in-stadium experience and brand partnerships
What are the benefits of panel research?
There's a reason why panel research has been in existence for a while now: in terms of market research ROI, it provides a lot of value.
Faster turnaround times: Because you're engaging with a community of pre-recruited people ready to participate, you can drastically cut the time it takes to launch a study and get results. Many researchers are actually able to create, launch, and get topline findings from a study within 24 hours.
Cost certainty: Not having to pay per complete or purchase new sample every time you want to run a study helps keep costs down and allows you to do more with your market research budget.
Improved data: Ongoing learning and research with the same community members helps you build deep profiles and understand how their attitudes and behaviors change over time.
Better engagement: When you have a group of people who have already agreed to participate in research activities from your company, you're naturally going to have higher completion rates. Whether they're fans, loyal customers, or consumers just excited about the subject you're researching, panel members tend to be ready and willing to share their thoughts.
Better brand experience: When done right, a panel is a great way to build your brand. Getting members to weigh in on things like new products and future content fosters a lasting connection and let them know that their opinion matters.
How to make panel research work for your brand
Now that we've reviewed the basics of panel research, let's jump into how your company can make the most of it.
Based on our experience helping Rival customers run community-based research, we've developed 4 pillars that help companies get more out of panel research.
1. Create a member-first experience
Humans like doing things that are fun. We don't like doing things that are boring. These are facts of life, and they're ones that researchers need to remember when conducting panel research.
So how can researchers make the experience or participating in research more enjoyable, and less tedious for members? The answer is to put the participant experience first.
Make mobile a top priority
Our phones are the number one piece of technology we use in our daily lives. We're usually never more than an arm's length away from our phones at any given time.
So when thinking about where our members would want to engage with our brands and provide their feedback, we need to meet them where they are. Taking a mobile-first approach to research and hosting panel surveys and chats through SMS allows your research activities to fit more effortlessly into their lives. It reduces friction for people to participate, and delivers better engagement for you.
Create a conversation, not a test
It should be no surprise that sending a panel survey to your members that's 30 questions long and is riddled with formal language is not exactly the recipe for a great participant experience.
Yet, so many researchers continue to create long surveys that feel more like taking a test or filling out a form at a doctor's office than a positive (and, dare we say, fun) brand experience.
At Rival, we're all about chats—conversational surveys that feel more like a dialogue with a friend over text, rather than an interview with an anonymous entity.
What does this look like?
For starters, it's using plain language and using a friendly tone that's similar to how you'd text with a loved one. Our chats use emojis, GIFs, and memes to move the conversation along and add an element of lightheartedness to it.
And because panel research allows you to remember how people answered in the past, we've dumped the long survey in favor of shorter chats that support a more iterative, agile approach to research.
To create a great member experience and keep respondents coming back, you need to offer your research in the format that's best for them. The good news? Our research-on-research shows that mobile-based chat surveys are preferred across all generations (this isn't just a Gen Z thing!).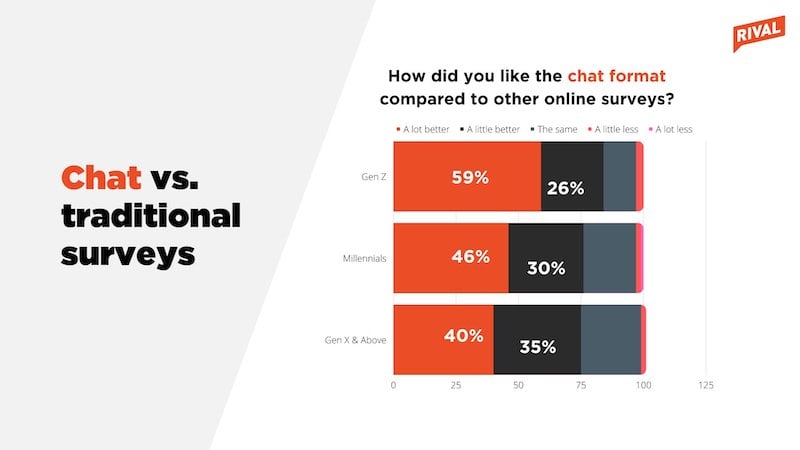 And if you play your cards right when it comes to member experience, you might even get your customers sharing unsolicited praise about your survey amongst themselves. Here's an example from a Rival customer in the esports industry, who got a ton of great feedback about their chat in a Discord forum.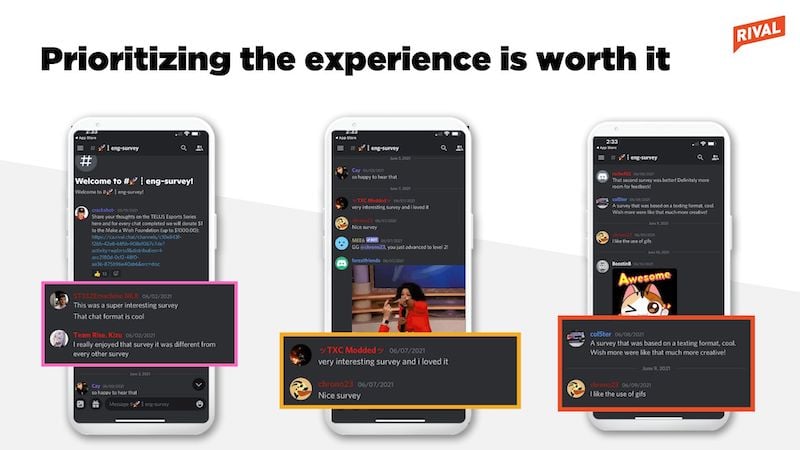 2. Monitor and adjust accordingly
Your panel or community should be monitored often to make sure it stays healthy and engaged. While timeframes depend on several factors, we recommend looking at your panel and community health metrics once a quarter. At the very least!
Pay attention to these key metrics to help determine the health of your panel:
Churn rate
Open rate
Drop off rate
Completion rate
Having a designated Customer Success team that will help you evaluate these panel metrics and provide suggestions for continuous improvement is key for getting the most out of your investment in the panel.
Expect some churn. Even with the best engagement, most enjoyable surveys, and most interesting topics, market research panels still tend to suffer from "leaky bucket" syndrome. It's natural that people will sign up, be engaged for a certain time, and then lose interest.
That's why recruitment should never be thought of as a 'one and done' initiative. Which leads us to our next point…
3. Recruit the right people using a variety of sources
Up until a few years ago, most recruitment for panels was done solely through river sampling or an email to a database. Companies would send out an email invitation and wait for a whopping .05% of those customers to join the research panel. Ouch.
Today, there are so many more ways to recruit—next-gen recruitment techniques that allow your company to cast a wider net, get better response rates, and build a great brand experience while doing it.
While river sampling and access panels are still great starting points for recruitment, don't stop there. Here's some examples of modern recruitment methods to consider:
Tapping into a variety of recruitment sources and methods leads to a healthier research panel.
RELATED RESOURCE:
4. Showcase insights from your panel research
Your research is important and deserves to be seen and used across your company.
As insights professionals, we can sometimes default to sharing charts, tables, and spreadsheets. But one of the best ways to share with your broader company—so that they really pay attention—is with visual storytelling.
Stories just hit differently. Some research even suggests that we're able to remember facts 20x better when they're part of a story.
The video feedback you're getting from your panel or community is a valuable storytelling tool. Videos can amplify your insights and make them more digestible, tangible and memorable.
A great example of this is when the Oprah Winfrey Network was launching a new show. They asked their community members to tune in on premier night and take a video talking about their thoughts on the show while watching. The next morning, these real-time insights were then paired with their Neilsen ratings and shared across the organization to help tell the story of how the show was received during the premier.
Our team was even told that Oprah herself loved the video content so much that she asked to have videos accompany all data going forward. As it turns out, video is one of Oprah's favorite things. 😜
Find the right technology partner for panel research
There's a lot to consider when launching a market research panel and partnering with an online panel provider. How innovative is their platform? Does it support new ways of doing research like mobile chats and social recruiting? Will you have a designated team to help you make sure you get the most out of your investment?
By choosing a panel supplier that prioritizes participant experience, you're more likely to maintain high engagement in your community and get the ROI you're looking for from this type of research.
To learn more about our approach to mobile-first panel research, visit our Community page or watch our webinar "Insight Communities: How to 10x your Impact with Mobile-First Approaches."