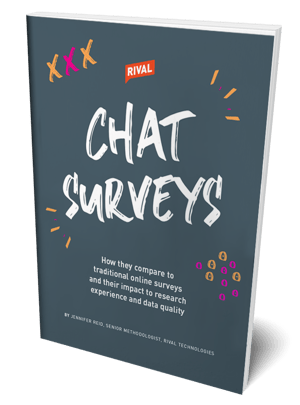 Conversational surveys (or "chats") make it easy for you to get better insights from your customers on mobile using chat, video and machine learning. Unlike traditional surveys, chats are engineered to deliver an experience that feels organic, familiar, and fun to your research participants.
In this research-on-research, Jennifer Reid, Chief Methodologist and President at Rival Technologies, examines the impact of using chats to data quality and the respondent experience.
Questions answered in this e-book include the following:
✔️ How do research participants feel about chats as a new way of providing feedback?
✔️ Do mobile surveys sent via SMS introduce any demographic skews?
✔️ Is there a difference between people who answer chats versus those who answer flat surveys?
✔️ How do findings from chats compare to insights gathered from traditional online surveys?