The beauty industry has re-imagined how it markets to consumers. Before COVID-19, beauty companies earned nearly 85% of its revenue from store locations.1 Businesses had to pivot their marketing strategies to account for decreased foot traffic 🚶 and tighter consumer budgets 💸. Reporting as much as a 35% loss in sales compared to last year, companies have been testing different solutions that will keep consumers engaged and interested in purchasing their products.
There's been a massive fragmentation in the beauty industry. Definitions of what beauty means to the individual are changing, and how people are using these products is evolving. Researchers are in a position to understand these shifts in consumer behavior and bring actionable insights into the routines and rituals of today's beauty consumers. This report shares how beauty companies are capitalizing on stay-at-home trends 🏡 to maintain revenue streams while recommending how to further improve consumer loyalty and engagement strategies.
---
Here's how the rituals and routines of today's beauty enthusiasts are changing



1. Consumers want to see more subscription boxes
Industry experts forecast that the subscription box market is set to grow a whopping 72% by 2022.2 When it comes to the beauty industry specifically, it seems personalization is key. One study of 5,000 US consumers discovered that curation services (subscriptions targeted at creating personalized experiences) were the most popular service type, accounting for 55% of total subscriptions.3 📦 This success is in the psychology; research shows that consumers love subscription boxes (of all kinds) because they:
Personalize their shopping experience 😍: 28% of consumers report that personalization plays a key role in purchasing a subscription box.2 Additionally, they eliminate the need for decision-making, placing them at the center of the shopping experience and encouraging brand loyalty.

Reward consumer uncertainty 🏆

: Opening a subscription box has the same chemical reaction in your brain as when you win a bet.4 These boxes offer a perfect mix of uncertainty and personalization that creates a sense of excitement and reward for "taking a risk".

Save valuable time ⏰

: People have little incentive to leave their homes during the pandemic.5 Subscription boxes help consumers save time through completing their shopping in a couple of clicks from the comfort of their home.
Together, these three motivations demonstrate that a successful consumer engagement strategy will drive loyalty and revenue. Subscription boxes capitalize on trends while tailoring their experience to a consumer's personal preferences.
One of the challenges with conventional research is people need to remember their feelings, which carries a risk of missing that reactionary moment when people are their most truthful. To better track and understand trends like these, researchers can engage consumers in these key "aha" 💡 moments while avoiding recall bias.
2. Try before you buy encourages more sales
A huge element of the beauty industry's purchase power is through allowing consumers to test 👩‍🔬 and try products before they purchase them. Naturally, companies are trying to replicate this element of the consumer experience in a meaningful way during store closures. The most innovative solutions are virtual try-ons and "try before you buy" packages.
3 in 5 Gen Zs and Millennial women we talked to are interested in seeing more virtual makeover opportunities. Virtual try-ons use augmented reality to apply selected makeup items from the consumer's cart onto a picture or live video of their face to help them determine if the product meets their expectations. This gives them greater incentive to proceed with their purchase while personalizing their shopping experience; 38% of consumers reporting that user-generated imagery and videos 📽️ are more important than before the pandemic.
Alternatively, companies like treStiQue are offering 30-day free trial programs, where consumers have one month to decide if they'd like to purchase or return the product(s). This better simulates an in-store experience where shoppers can test items before purchasing them. According to the company, 70-80% of try before you buy consumers will purchase the product(s) they select 😮.6
Product testing is an important step in the buyer's journey and can't afford to be ignored. Companies who dedicate a portion of their budget and efforts towards mimicking this in-store experience will be rewarded with higher purchase rates.

3. Beauty is inclusive
We are all unique, and that's something to be celebrated. 55% of the consumers we talked to said they'd like to see more beauty products for under-represented audiences. Sales for multicultural beauty products are increasing twice as fast when compared to standard market growth. Companies are rushing to provide a wider range of items, such as lipstick shades 💄 and foundation tones, with the number of unique color ranges growing seven times faster than product lines as a whole.7
However, creating inclusive lineups isn't enough. Consumer opinions are constantly evolving. Some brands have paid the price for ending the conversation too soon 🤐. For example, many minority and ethnic women have voiced their frustrations that products didn't address the unique needs of their skin, creating awkward undertones.7 Representation in beauty is an incredibly personal subject. One of the challenges of traditional research in this space is it risks treating everyone as the same. When you engage people in a way that feels authentic and personal, they're more likely to share feedback that reflects this sentiment.
4. Clean, natural beauty is the best you
With all group events shut down and mask mandates in place 😷, less people are finding value in wearing makeup; 71% of women confirmed that they "wear makeup less often due to COVID-19 lifestyle changes".7 This paired with work from home policies and tighter budgets has created a "minimalist" beauty movement focused on a more natural, affordable look. In contrast, skin care products like cleansers have seen a rise since the pandemic as consumers have placed a much greater value on hygiene 🚿 .6
This trend isn't limited to the look itself. People are more critical about the ingredients going into the products they're applying to their face and skin, known as "clean beauty". Experts suggest that this may drive for stricter ingredient criteria or clearer labelling in the near future, as these consumer habits can be expected to stick around post-pandemic 🔮.
In addition to being mindful of what's going on their skin and hair, people are also taking a look at what happens to the product once it has been used. Working with our sister company, Reach3 insights, we conducted a multi-phase conversational study to understand the increasing environmental concerns and impact of COVID-19 on consumers' attitudes and behaviors towards makeup and makeup removal (especially wipes). Some of the most common sentiments expressed this large CPG's consumers were environmental concerns along with changes to routines and lifestyles caused by the pandemic. Whether it's sustainable packaging, investing in re-usable products, ♻️ or supporting cruelty-free vegan serums, environmentally conscious thinking is becoming a key value marker to consumers when considering which products to purchase.
Together, these three elements (natural beauty, safe products, and zero-waste use) indicate that consumer sentiment is favoring beauty products that focus on long-term health 💜 (for the consumer and the environment) rather than the short-term aesthetic.
What's next in beauty
We've seen significant changes in the beauty industry. A market that once heavily relied on in-store sales has moved almost entirely online 🖥️. A world focused on outward aesthetic is now turning inwards, valuing inner beauty and long-term sustainability. To say the entire market has been flipped upside-down 🔃 is no longer an exaggeration. Those who not only understand but are able to anticipate and proactively identify the needs of today's beauty consumers are those who will build consumer loyalty while driving revenue both during and after the pandemic.
---
How we're helping beauty companies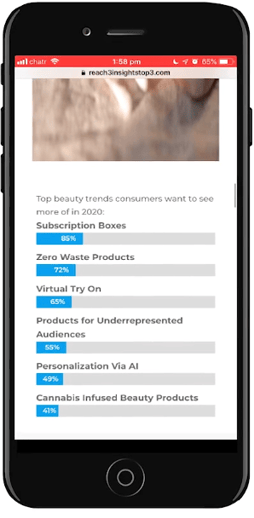 With beauty spaces rapidly evolving, you can't afford to leave your consumer feedback to chance; with email surveys, it may take customers over a week to reply. Combined with poor open rates and recall bias 🤔, by the time you compile your information it will already be outdated. Using our conversational mobile-based messaging solution you can:
Gather continuous feedback 🗣️: New trends are influencing the market on a daily basis. Establish a market research strategy that harnesses the power of ongoing engagement.
Receive authentic insights 🙌: No need to limit yourself to surveys, when your consumers are ready to give organic feedback through videos, pictures, and long-text answers.
Create hyper-personalized content ✍️: The only limit to your Chats is your imagination. Create targeted content on an account basis to develop innovative ways to successfully break into new beauty segments.


---
Sources