Conversational AI + Conversational Research: A Potent Match
Combine the power of Conversational AI and Conversational Research to get high-quality data that leads to deeper insights faster.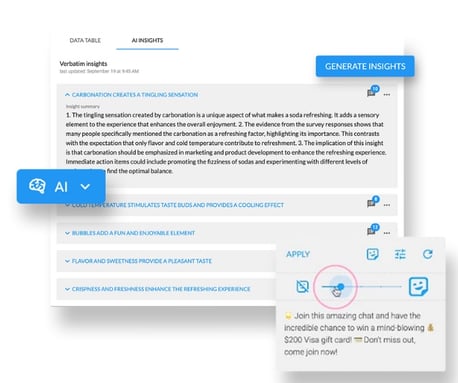 Since the explosion of popularity of ChatGPT, we've seen an influx of AI capabilities flooding the market research and insights space. While some of these announcements sound impressive, they miss a foundational principle of using AI: your outputs are just as good as your inputs.
To harness the true potential of AI, we must prioritize capturing data that accurately reflects what consumers actually think, feel and do.
In this webinar, you'll learn how to use Conversational Research to get the high-quality data you need to improve your business outcomes with AI.
Watch now as our speakers discuss:
How to use conversational, mobile-first approaches to improve engagement and enhance the quality of your data

How to capture modern quant, qual and video methodologies to get better data on consumer attitudes, emotions and context to feed AI
Opportunities to optimize your processes and approach to increase agility and speed to insights

Ways to elevate your impact with AI-assisted analytics, reports and deliverables
In addition, we'll share a live demo of two of Rival's AI capabilities: AI Tone Suggestions and AI Insight Summaries.
Featuring:
Dale Evernden
Head of Innovation, Rival Technologies
Andrew Reid
CEO & Founder, Rival Technologies