8 Conversational Research Principles
Featuring case studies from Jagermeister, Brunswick, Tyson Foods, Hyundai, REVOLT TV, Kellogg's, and Kimberly-Clark.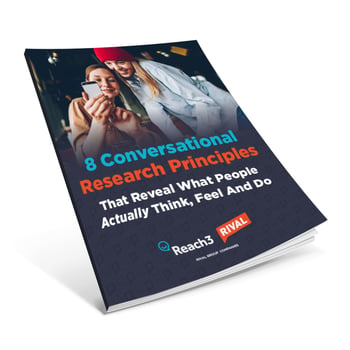 Conversational research is a fresh approach that makes it easy for marketers and insight pros to make a bigger impact. It creates a stronger, more genuine connection with consumers, inspiring them to share their attitudes and opinions more freely on their own terms.
In this guide, you'll learn 8 principles that maximize the power of conversational insights and allow you to work with more agility, flexibility and scale.
Learn how
conversational research

can help you:
Unlock new methodologies that capture real-time insights and inspire your team to take action
Integrate conversational approaches into remote and mobile-first research methods to uncover deeper insights faster
Cultivate deeper connections with research participants to get ongoing quant, qual and video feedback over time