Rethink Your Research With Chat, Video and Voice Solutions
Use conversational surveys to boost your response rates and get richer, real-time feedback from your customers.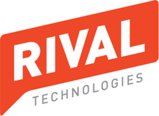 A Vision Critical partner, Rival Technologies provides a platform for you to reach your community members through their mobile phones and messaging apps.
Rather than sending a survey, you send chats, which you can deploy through SMS or a messaging or voice app. Compared to traditional surveys, chats are more personal, ongoing and engaging.
Fun fact: Rival was started by Andrew Reid—the same person who founded Vision Critical.

Innovative Brands Use Rival
Industry-leading companies already use conversational surveys to engage their customers and fans. Watch the videos below to learn how Telstra, Warner Bros. and the National Football League integrate our software with their Sparq communities to get in-the-moment feedback from their members.
WARNER BROS.
Please enter the password "rival" to watch.
Chat With Us
If you'd like to learn more, click below to send us a message through your web browser or Facebook Messenger. We'll be in touch very shortly.
CHAT NOW!