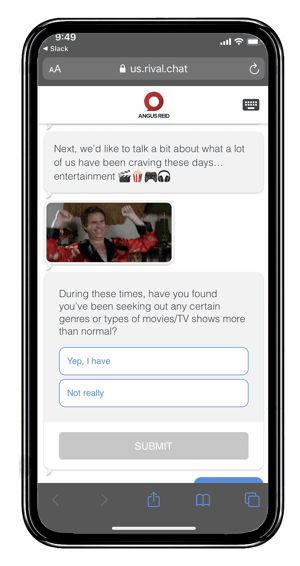 The human and business impact of the COVID-19 outbreak has been swift, significant and devastating. Not surprisingly, companies are grappling to stay ahead of rapidly evolving consumer mindsets during these uncertain times. With people's day-to-day lives disrupted, many of our clients are struggling to understand how people feel and how those emotions influence behaviors.
Together with our sister company Reach3 Insights, and in partnership with the Angus Reid Forum, we've built an online community of American and Canadian consumers to capture the human aspect of the pandemic. We're sharing insights from this community for free to help our clients and partners navigate the coronavirus crisis.
We invite you to sign up to:
- Submit questions you'd like to be added to our next chat study
- Get the chat survey and offer your own perspective
- Receive reports and findings first, directly in your inbox
This is not just another COVID-19 survey. This program leverages mobile messaging-based approaches to capture robust quantitative and qualitative data in one seamless experience. The interactive deliverables include emotive selfie videos and observational photos that provide a rich picture of what's going on with your customers today.